Fury X.
L'E3 si è concluso con il botto anche per gli utenti PC, con l'atteso annuncio della rinnovata gamma di schede grafiche del produttore AMD e l'arrivo di quel mostro di potenza chiamato Fury X.
La compagnia americana ha infatti presentato nella giornata di ieri le nuove schede grafiche AMD Radeon di ultima generazione durante una presentazione che si è tenuta a Los Angeles e ha visto la partecipazione di giganti del settore come Microsoft®, EA e Oculus.
Le schede AMD di nuova generazione rappresentano un punto di svolta nella tecnologia al servizio del gaming su PC e offriranno migliori risoluzioni, esperienze VR eccezionali, un gameplay più fluido, supporto per API nuove e avanzate come DirectX 12 e Vulkan ma anche nuovi form factor pensati per offrire ai videogiocatori schede per ogni esigenza e ogni budget.

"Con le nostre Radeon di nuova generazione stiamo introducendo una serie incredibile di innovazioni che renderanno molto felici i videogiocatori. Performance eccezionali, funzionalità VR senza precedenti, nuovi form factor, design premium, esperienze 4K incredibili, tutto pensato per eccellere nei videogiochi odierni e futuri grazie alla compatibilità con API come DirectX 12 e Vulkan. Stiamo entrando in una nuova era per il gaming su PC e, insieme con i nostri partner software e hardware in tutto il mondo, non potremmo essere più orgogliosi nell'offrire queste schede agli appassionati", ha dichiarato Matt Skynner, corporate VP and general manager, Computing and Graphics Business Unit di AMD.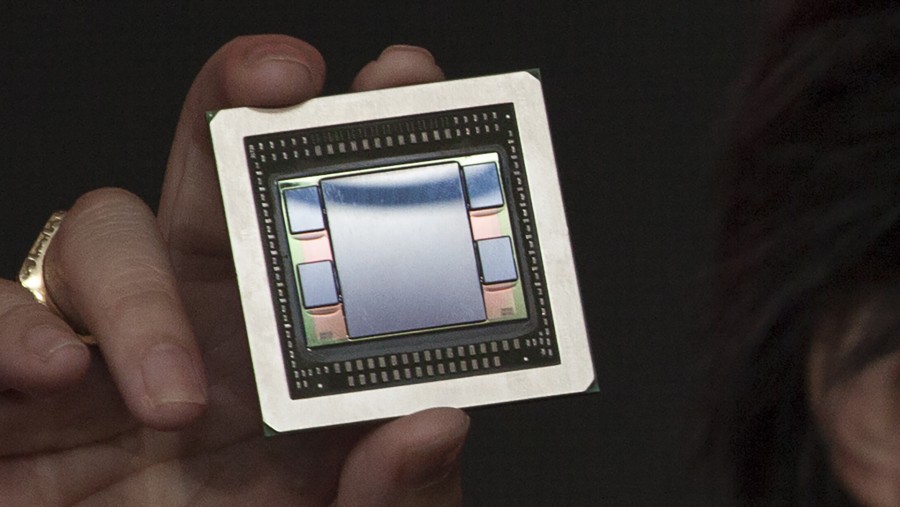 La nuova famiglia di schede grafiche AMD Radeon comprende:
· RadeonR9 Fury series: la GPU più avanzata e innovativa mai creata, la AMD Radeon R9 Fury X rappresenta un mutamento epocale nel design delle schede grafiche grazie al chip conosciuto come "Fiji". La GPU AMD Radeon™ R9 Fury X introduce sul mercato l'innovativa tecnologia High-Bandwidth Memory (HBM) integrata sul chip, per un'ampiezza di banda superiore del 60% rispetto alla GDDR5 insieme all'interfaccia di memoria a 4096-bit. La Radeon R9 Fury X offre tre volte le performance per watt rispetto alle GDDR5 con il 94% in meno di superficie PCB, il tutto in una scheda da appena 19cm.
· Radeon R9 300 series: le GPU della serie AMD Radeon™ R9 300 offrono grafiche eccezionali per un gaming 4K senza precedent. Supportano le tecnologie più recenti, come Virtual Super Resolution (VSR), AMD CrossFire™ e API di nuova generazione tra cui DirectX 12, OpenGL 4.5 e Vulkan™.
· Radeon R7 300 series: le schede della serie AMD Radeon™ R7 300 sono la scelta migliore per il gaming online e per gli appassionati di eSport, grazie alle performance in grado di offrire oltre 60 fps a 1080p o 1440p per i giochi online più famosi e alla qualità delle immagini raggiunta attraverso la Virtual Super Resolution (VSR) e alla possibilità di estendere il campo visivo oltre i 1080p con la tecnologia multi-diplay AMD Eyefinity.

Le GPU Radeon R9 300 series e Radeon™ R7 series saranno disponbili ad un prezzo rispettivamente di 429 e 329 euro presso la gran parte degli shop online dal 18 giugno. La GPU AMD Radeon™ R9 Fury X sarà commercializzata invece dal 24 giugno tramite rivenditori selezionati ad un prezzo che dovrebbe aggirarsi intorno ai 650 euro.
Per ulteriori dettagli vi invitiamo a leggere il comunicato in inglese in calce
AMD Ushers in a New Era of PC Gaming with Radeon™ R9 and R7 300 Series Graphics Line-Up including World's First Graphics Family with Revolutionary HBM Technology
AMD unleashes a spectrum of innovation with advanced technologieslike High-Bandwidth Memory, the best 4K gaming experiences,and the most advanced VR solutions, all ready for next-generation DirectX® 12 gaming
LOS ANGELES, Calif. — June 16, 2015 — AMD (NASDAQ: AMD) today ushered in a new era of PC gaming, unveiling its line of next-generation AMD Radeon™ graphics cards at a live webcast held in Los Angeles and broadcast to thousands of gamers around the world, joined by industry giants Microsoft®, EA and Oculus. The AMD next-generation graphics cards mark a technology turning point in PC gaming, bringing super high resolutions, exceptional VR experiences, smoother gameplay, support for new, advanced APIs like DirectX® 12 and Vulkan™, and groundbreaking form factors to gamers everywhere through a top-to-bottom line of GPUs that fit virtually every need and budget.
Radeon™ R9 Fury series graphics – Don't just upgrade. Revolutionize.
Revolutionary inside – and out

– The most advanced and innovative GPU ever created for the enthusiast market, the AMD Radeon™ R9 Fury X GPU represents a paradigm shift in GPU design in the chip previously codenamed "Fiji".

Innovative technology

. Making beautiful memory – The AMD Radeon™ R9 Fury X GPU brings to market the highest GPU memory bandwidth ever, pioneered by a consortium led by AMD, High-Bandwidth Memory (HBM) integrated on-chip delivering 60% more memory bandwidth over GDDR5 along with unprecedented 4096-bit memory interface. The Radeon™ R9 Fury X GPU delivers more than 3x the performance per watt of GDDR5 in 94 percent less PCB surface area, producing ultra-enthusiast-class performance in a mere 7.5" (19cm) board.1,2,3

Premium design. Bright lights. Big Intensity.

– The AMD Radeon™ R9 Fury X GPU's state-of-the-art, premium industrial styling features black-nickel aluminum exoskeleton and soft-touch aluminum plates, high-caliber liquid cooling, customizable GPU Tach activity meter that measures GPU utilization and LED illumination that highlights design details for the finishing touch.

Redefine Reality.

– The AMD Radeon™ R9 Fury X GPU is the definitive VR solution, designed to deliver exceptional performance in the most demanding VR games and applications, while benefitting from AMD LiquidVR™ technology to enable the most comfortable VR experience and compatibility across a wide range of head-mounted displays.9

The best 4K gaming experience

. Enjoy the View. – The AMD Radeon™ R9 Fury X GPU takes gaming to the next level, boasting 4096-bit high-bandwidth memory interface that not only meets but exceeds the extreme performance requirements for the most demanding 4K games for stunning performance in 4K resolutions and beyond8 with image quality settings turned up, smooth gaming with AMD FreeSync™ technology10, and is ready for the future with support for next-generation multi-threaded APIs including DirectX® 12, OpenGL® 4.5, Vulkan™ and AMD's Mantle.4,5,6

Enabling new PC form factors. Small Size. Giant Impact.

– The incredibly compact design of AMD Radeon™ R9 Fury X GPU opens the door for new and exciting PC form factors, with more design flexibility for modders, DIYers and System Integrators than ever before. The AMD Innovation Lab's recently unveiled Project Quantum prototype PC illustrates the point, making use of Radeon™ R9 Fury X GPUs to reinvent desktop computing for the VR era, enabling form factors never imagined before.

A new family of the world's first HBM-powered GPUs

– The AMD Radeon™ R9 Fury X, which is the world's first HBM-powered graphics card (previously codenamed "Fiji"), is scheduled for availability starting June 24th. The AMD Radeon R9 Fury, with both liquid- and air-cooled options, is slated for availability starting July 14th. The deceptively small (6" in length), category-creating AMD Radeon R9 Nano is scheduled to follow in Q3 2015. AMD also plans to bring to market this fall a flagship Radeon Fury product for very smooth 4K gaming and VR that is based on two "Fiji" GPUs.
Radeon™ R9 300 series graphics cards – Designed for your survival
The DNA of 4K gaming

– AMD Radeon™ R9 300 series GPUs deliver stunningly powerful graphics for unparalleled 4K gaming experiences in their class. Supporting the latest gaming technologies including Virtual Super Resolution (VSR)11 for quality that rivals 4K, even on a 1080p display, AMD CrossFire™ multi-GPU technology7, and next-generation APIs including DirectX® 12, OpenGL® 4.5, and Vulkan™, Radeon™ R9 300 series GPUs are the perfect gaming solution for beyond HD.5,6

Making the virtual world real

– AMD Radeon™ R9 300 series GPUs are designed for VR, taking advantage of AMD LiquidVR™ technology to deliver a comfortable, low-latency VR experience that harnesses multiple GPUs to drive the highest possible frame rates.9

Smooth, tear-free gaming

– AMD Radeon™ R9 300 series GPUs harness AMD FreeSync™ technology10 to help eliminate tearing and stuttering in single screen gaming, or using in multi-display Eyefinity configurations.12
Radeon™ R7 300 series graphics cards – Strike first…and last.
Made for Online Gaming Supremacy

– AMD Radeon™ R7 300 series GPUs are the optimal choice for online gaming and eSports competitors, effortlessly delivering greater than 60 fps gaming performance at 1080p or 1440p, ultra-settings, in popular online games.13,14 Enjoy exceptional image quality using Virtual Super Resolution(VSR)11 for quality that rivals 1440p with a 1080p display and expand the field of view in 1080p gaming using AMD Eyefinity multi-display technology.12

Battle-Ready for what's next

– AMD Radeon™ R7 300 series GPUs are optimized for next-generation APIs including DirectX® 12, OpenGL® 4.5 and Vulkan™ for the most advanced gaming experiences possible.5,6

Leading-edge performance and capabilities

– Gamers can benefit from the latest features and performance improvements in AMD Catalyst™ drivers, one-click game optimizations in the AMD Gaming Evolved client, and rest easy knowing their GPU is ready for Microsoft® Windows

®

10.
"With our next-generation Radeon™ graphics line-up, AMD is enabling a spectrum of innovation that can benefit all gamers. Exceptional performance, ground-breaking VR capabilities, new and dynamic form factors, premium industrial design, exceptional experiences in 4K, all built to excel in today's games and tomorrow's that harness forthcoming APIs like DirectX® 12 and Vulkan™. This really is a new era in PC gaming, and along with our software and hardware partners around the world, AMD could not be prouder to bring these graphics cards to gamers," said Matt Skynner, corporate VP and general manager, Product, Computing and Graphics Business Unit at AMD.
"DirectX® 12 represents an exciting new era of gaming performance, flexibility and image quality for Windows based devices," said Kam VedBrat, Group Program Manager, Graphics for Microsoft. "Today we join AMD in celebrating the unveiling of AMD Radeon™ R7 and R9 300 series GPUs, AMD's third generation of DirectX® 12-ready products ready to deliver incredible gaming with the Graphics Core Next architecture."
Radeon™ R9 300 series GPUs and Radeon™ R7 series GPUs is scheduled for select etailer availability on June 18. The AMD Radeon™ R9 Fury XGPU is planned to be available on June 24 from select add-in card suppliers, including (insert final list of AIBs). Partner participation will vary by region.
| | |
| --- | --- |
| AMD Radeon™ R9 and R7 series GPU Model | ​ SEP |
| AMD Radeon™ R9 Fury X | $649USD |
| AMD ​Radeon™ R9 390X | ​$429USD |
| AMD ​Radeon™ R9 390 | ​$329USD |
| AMD ​Radeon™ R9 380 | ​$199USD |
| AMD ​Radeon™ R7 370 | ​$149USD |
| AMD Radeon™ R7 360 | $109USD |
Supporting Resources