Presentata a Milano, la nuova famiglia di processori a 6 core di AMD
Un evento speciale per presentare ciò che, in casa AMD, diventerà la famiglia di processori più potenti presenti sul mercato. Una vera e propria gara di overclocking, con prestazione finale offerta da Sami Makinen, già campione del mondo di overclocking, che ha tentato, con successo, di portare i 6 core del Phenom x6 sopra i 6 ghz ciascuno.
Le prestazioni delle macchine esposte sono state davvero esaltanti, anche se a confermare la qualità, e soprattutto la velocità, del nuovo processore erano apparsi già nei giorni scorsi numerosi benchmark.
L'evento ha visto protagonisti i giornalisti e 4 community di overclocking, rispettivamente "hardwareproject", "hardwarestation", "Pc tuner" e "nexthardware", che sono stati divisi in appunto 4 squadre, miste, formate da due componenti delle community e due o tre giornalisti. Scopo della gara era overclockare, in 45 minuti, con i migliori risultati, il processore dei 4 pc forniti da Best it e tecnocomputer.it, rispettivamente uno per ogni squadra.
Nonostante le differenze delle varie configurazioni e i raffreddamenti ad aria, poco consoni ad un overclock, ho avuto l'onore, per 4news.it, di vedere all'opera i ragazzi di "hardwarestation" (http://www.hwstation.net/), con la vittoria finale del nostro team! Una bella prova per evidenziare le belle prestazioni dei processori Phenom.
Uno dei temi più caldi della manifestazione è stato proprio il confronto con i diretti concorrenti di casa Intel, che sta ultimando ora la produzione dei processori i9, paragonabili in termini di core alla soluzione AMD. Ovviamente, non essendo possibile ancora confrontare ufficialmente i due "mostri", ciò che Makinen è riuscito a mostrare ai giornalisti, e agli "overclocker" presenti per l'evento, non è stato altro che qualche benchmark dopo un' accurata e sempre affascinante messa in opera di un efficiente sistema di raffreddamento ad azoto liquido, che potrete godervi nelle foto e nel video allegato all'articolo.
Ciò che è apparso tuttavia evidente è stata la differenza prestazionale dei nuovi "Phenom" da rispetto agli "i7" di casa Intel, che prima del nuovo processore AMD risultavano essere tra i migliori, ma soprattutto tra i più venduti sul mercato. Ebbene, se dai 6 ai 4 core non si sentono poi tante differenze in ambito gaming, chi ha avuto modo di testare i processori AMD in ambito editing e rendering, si è accorto della differenza di "due mani in più" a spingere il sistema e anche se ci sarebbe qualcosa da contestare sulla scelta dei singoli processori all'interno delle due famiglie (è stato testato l'x6 phenom con un i7 860), il paragone rende comunque bene l'idea.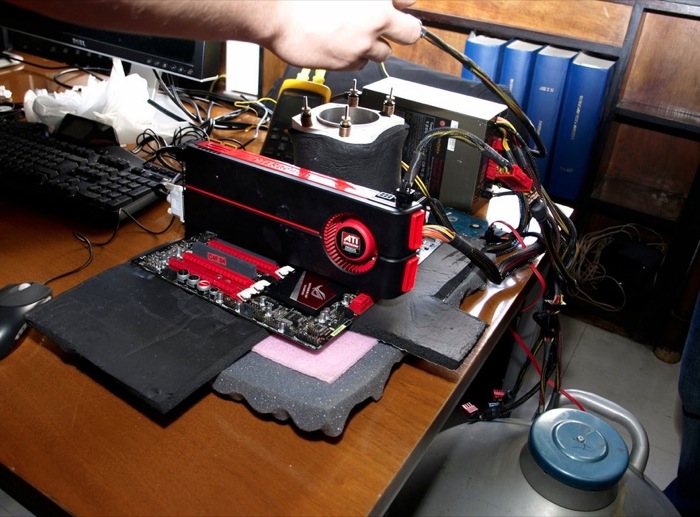 Il verdetto finale  quindi, anche in attesa della risposta di Intel, è ancora difficile da dedurre. Valutando pero' il gap prestazionale e di prezzo – elemento quest'ultimo da sempre prerogativa delle soluzioni AMD – possiamo azzardare la previsione che le prossime e più desiderate macchine da gioco PC saranno con tutta probabilità "made in Sunnyvale"
Di seguito le immagini della manifestazione e il comunicato stampa in italiano e in inglese
AMD annuncia la disponibilità immediata del processore Phenom II X6 e del chipset AMD 890FX che inaugurano una nuova era nell'intrattenimento e nella visualizzazione tridimensionale.
I consumatori potranno, da oggi, decidere di sostituire il vecchio processore dotando il proprio PC con un sistema a sei core e scheda grafica della serie ATI Radeon HD 5000.
Oggi fa il suo debutto sul mercato anche l'AMD Phenom II X6 1090T Black Edition, il processore di AMD più potente e performante attualmente disponibile.
"Con il processore Phenom II X6, gli utenti più esigenti possono costruire sistemi per l'intrattenimento e la creazione di contenuti dalle prestazioni incredibili" commenta Bob Grim director of Client Platform Marketing di AMD. " AMD, grazie al nuovo processore, risponde alla crescente richiesta degli utenti di disporre di CPU dalle performance sempre più elevate ma con un prezzo accessibile"
Una delle caratteristiche più innovative introdotte dal Phenom II X6 è la tecnologia AMD Turbo Core, una funzione che consente di aumentare la frequenza di lavoro, se uno o più core non sono attivi.
Il Turbo Core si attiva se almeno un core non sta lavorando in un preciso momento, e può dare al processore (a ogni core) fino a 500 MHz di potenza in più.
I processori AMD Phenom II X6 possono passare in Turbo mode nella fase per esempio di gioco dove potrebbero bastare due o tre core, oppure passare ai 6 core per applicazioni 3D che richiedono un maggior utilizzo della CPU.
Sistemi basati sul nuovo AMD Phenom II X6 sono disponibili dai principali System Integrator tra cui:
– Tecnocomputer.it – www.tecnocomputer.it
–        Brevi – www.brevi.it
–        CDC – www.cdc.it
AMD Phenom II X6 funziona con schede madri socket AM3 e AM2+ e il chipset AMD 890FX è il complemento perfetto per il processore AMD Phenom II X6. Con supporto alla tecnologia ATI CrossFireX, è pronto a sfruttare fino a quattro schede grafiche ATI Radeon HD e la tecnologia multi display ATI Eyefinity.
Il processore AMD Phenom II X6 1090T sono disponibili al prezzo di 290 € (IVA inclusa) mentre il Phenom II X6 1055T è disponibile al costo di 190 € (IVA inclusa).
AMD 890FX con chipset SB850 include l'ultima interfaccia hard drive SATA 6Gb/s, Gigabit Ethernet, tecnologia HyperTransport™ 3.0, e PCI Express® Generation 2.0, progettati per offrire alte prestazioni nel flusso di dati. Molte schede madri inoltre, basate su AMD 890FX, supportano SuperSpeed USB 3.0, per sincronizzare e trasferire file sui dispositivi di nuova generazione dotati di USB 3.0
AMD Delivers Elite Visual Computing Performance with Latest Desktop Computing Platform
New AMD Phenom™ II X6 Processor, AMD 890FX Chipset and ATI Radeon™ HD 5000 Series Graphics Create AMD's Most Powerful Desktop Platform Ever
SUNNYVALE, Calif. — April 27th, 2010 — AMD (NYSE: AMD) announced the immediate availability of the AMD Phenom™ II X6 processor and AMD 890FX chipset ushering in a new era of immersive 3D entertainment and visualization. Trailblazing consumers seeking immersive 3D entertainment and high definition multi-monitor display now can affordably upgrade to six-core performance and award-winning ATI Radeon™ HD 5000 series graphics. Today also marks the availability of the flagship AMD Phenom™ II X6 1090T Black Edition processor, AMD's fastest and most tunable desktop processor ever.
"With AMD Phenom II X6 processors, discerning customers can build an incredible, immersive entertainment system and content creation powerhouse," said Bob Grim, director of Client Platform Marketing at AMD. "AMD is answering the call for elite desktop PC performance and features at an affordable price."
AMD Phenom II X6 processors feature new Turbo CORE technology that transfers performance to three dedicated cores operating at higher frequency. AMD Phenom II X6 processors can shift to Turbo mode for demanding games and productivity software which may employ two or three cores, or shift back to six real cores for the demands of core-hungry content creation and immersive 3D applications.
Systems based on the AMD Phenom II X6 processor and the AMD 8-series chipsets are immediately available in North America fromBOXX, iBuyPower, CyberPower, Systemax, MainGear, NCS Technology, Velocity Micro, and ZT Systems. AMD Phenom II X6 processors and AMD 8-series chipsets are available on motherboard sold by retailers NCIX, Newegg, and ZipZoomFly.
The

AMD Phenom II X6 processor

works with existing AM3 and AM2+ socket motherboards with proper BIOS support, making these processors an easy upgrade

With the new AMD OverDrive™ 3.2.1, computer enthusiasts can tune system performance, customize settings, and tune memory performance for the latest AMD platforms with the new AMD Phenom II X6 processor

1

The AMD 890FX chipset is the premier complement to the AMD Phenom II X6 processor, featuring ATI CrossFireX™ technology, and is ready for up to four ATI Radeon HD graphics cards and award winning ATI EyeFinity multiple-display technology

2

All of the necessary components to build a complete AMD-based system featuring the AMD Phenom II X6 processor can be purchased for less than the price of our competition's only six-core desktop processor

3

The AMD 890FX with SB850 chipset includes the latest SATA 6Gb/s hard drive interface, Gigabit Ethernet, HyperTransport™ 3.0 technology, and PCI Express® Generation 2.0 designed to provide high performance data flow

Many AMD 890FX-based motherboards feature SuperSpeed USB 3.0, quickly synchronizing and transferring digital media files on the new generation of USB 3.0 devices
Supporting Resources
1        AMD's product warranty does not cover damages caused by overclocking – even when overclocking is enabled via AMD software.
2        ATI Eyefinity technology can support up to 6 displays using a single enabled ATI Radeon™ graphics card with Windows Vista or Windows 7 operating systems (systems with multiple graphics cards can support a maximum of 8 displays with 6 in SLS and 2 inextended mode) – the number of displays may vary by board design and you should confirm exact specifications with the applicable manufacturer before purchase. ATI Eyefinity technology works with games that support non-standard aspect ratios, which is required for panning across multiple displays. To enable more than two displays, additional panels with native DisplayPort™ connectors, and/or certified DisplayPort™ adapters to convert your monitor's native input to your cards DisplayPort™ or Mini-DisplayPort™ connector(s), are required.
3        Pricing based on  competitive MSRP averages of: motherboard, memory, ATI Radeon HD 5670 graphics, hard drive (7200 rpm), chassis, power supply unit, standard 24" 1080P LCD, as advertised on www.newegg.com on 4/15. AMD processor pricing is online at AMD's website. Intel Core i7 six-core price as advertised on www.newegg.com on 4/15. All prices subject to change.
{vsig}tecno/hardware/AMD_phenom_x6/{/vsig}
Seguici sui nostri social media