Tempo di novità in casa NZXT con i nuovi case studiati appositamente per gli amanti dei led RGB
NZXT ha presentato nella giornata di oggi i nuovi case della serie H, appositamente studiati per offrire un nuovo approccio al pc building con al centro i sistemi di illuminazione RGB e il controllo delle emissioni sonore.
I nuovi case H700i, H400i e H200i includono di serie un nuovo controller denominato Smart Device che integra le funzionalità dei pluripremiati prodotti della serie GRID+ (la cui versione V3 è stata presentata in contemporanea) e HUE+ e soprattutto un sistema di illuminazione RGB e di ventilazione basato sulla serie Aer F, il tutto già preinstallato di fabbrica.
Il nuovo Smart Device dispone di un sistema intelligente per il controllo delle emissioni sonore chiamato "Adaptive Noise Reduction" che attraverso un sensore audio che analizza la rumorosità del vostro pc, il carico della cpu e della GPU, sulla base di una serie di algoritmi cloud based, elabora una curva delle ventole che si adatta alle esigenze del momento, con una riduzione della rumorosità generale del vostro pc fino al 40%.
I nuovi casi H700i, H400i, e H200i, tutti dotati di uno splendido pannello in vetro temperato per mostrare gli effetti di illuminazione RGB, saranno disponibili in diverse dimensioni e colorazioni: nero, bianco e nero, rosso e nero e rosso e blu (tutte le foto nel comunicato in calce), per venire incontro alle esigenze degli appassionati e soprattutto con la consueta attenzione ai dettagli e qualità di tutti i prodotti NZXT.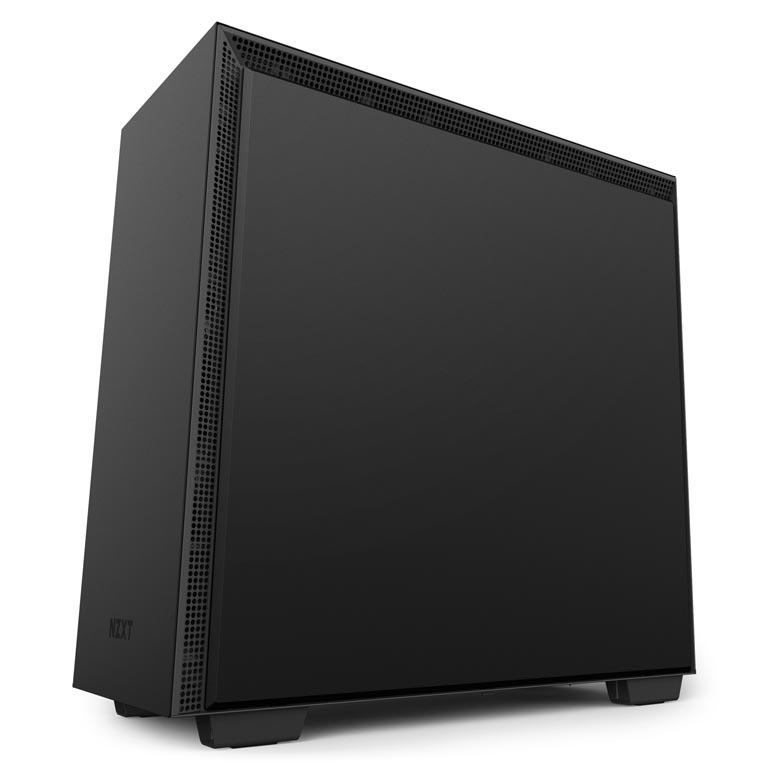 I prezzi dei nuovi case delle serie H variano dai 199,90 € dell' H700 fino ai 149,90 € per l' H400i mentre non è stato ancora annunciato il prezzo dell' H200i. Per acquistarli dovremo attendere il mese di dicembre quando saranno disponibili worldwide.
Per ulteriori dettagli e tutte le immagini, vi invitiamo a continuare nella lettura del comunicato stampa in inglese qui sotto.
NZXT introduces the H Series cases
A new approach for modern PC building with an integrated digital fan and RGB controller
Los Ángeles, CA – October 17th, 2017 – Today NZXT is announcing the all-new H Series PC cases showcasing its vision for modern PC building. The H700i, H400i, and H200i include the newly-developed, fully-integrated Smart Device controller providing the same capabilities as NZXT's highly-acclaimed GRID+ and HUE+ products. Each case comes build-ready with pre-installed RGB lighting and pre-wired Aer F fans*, saving the cost and hassle of adding RGB and fan controllers.
The Smart Device also adds an audio sensor to measure fan noise, enabling a new feature called "Adaptive Noise Reduction." This intelligent, cloud-based algorithm leverages the power of shared data and machine learning to develop fan curves that can reduce system noise by up to 40%. A patent-pending cable management system makes it easy to keep your system neat and tidy, without wasting time on your wiring. And finally, all H Series cases feature a tempered glass side panel so you can show off the stunning results of your build.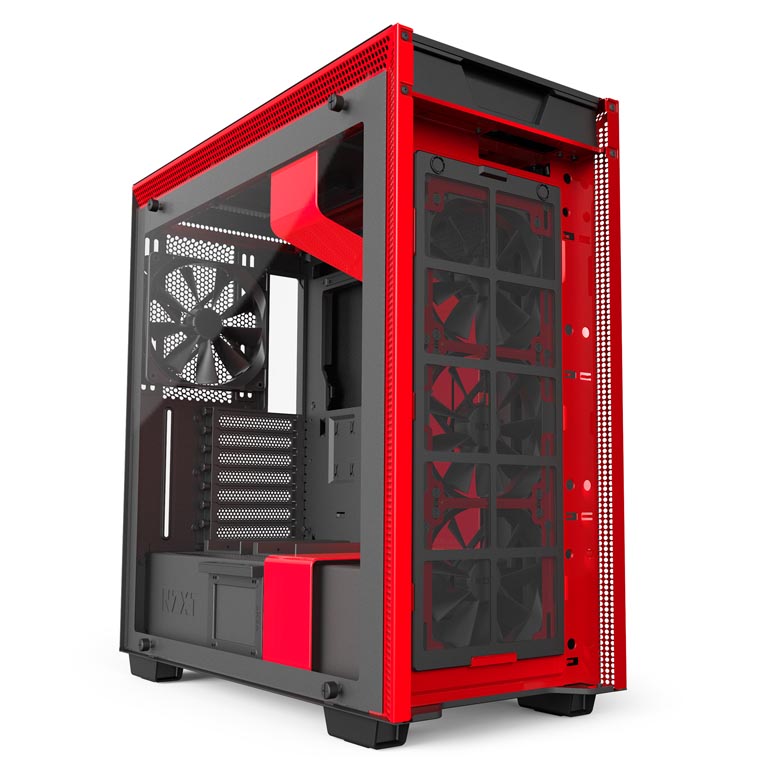 "We designed the H Series as a new approach to PC building. We want to make creating extraordinary PCs achievable and fun for everyone. PC builders should be able to benefit from the same features and design across different form factors. That's why all three cases in the H Series share the core smart features, modern design, and beautiful craftsmanship that are our vision for modern PC building," says Johnny Hou, NZXT's founder and CEO.
H Series main features
Modern aesthetics and builder-friendly features are delivered in three sizes: the H700i, a mid-tower ATX case; the H400i, a mATX case; and the H200i, a compact ITX case
The Smart Device, a built-in digital RGB and fan controller powered by CAM, simplifies installation and management of RGB lighting and fans, saving time and money
Premium, all-steel construction with the sleek H Series design; available in four color combinations
Tempered glass side panel showcases custom RGB lighting
Wire management is made easy by an all-new cable management system
Water-cooling installation simplified for both AIO and custom loop configurations
Adaptive Noise Reduction optimizes cooling and noise balance for the best gaming comfort
Smart controls that matter
The unique Smart Device includes features from our HUE+ and GRID+ V3 digital controllers, allowing for effortless control of RGB lighting and fans using CAM. Customized lighting is streamlined with integrated and individually addressable RGB LED strips. Don't waste time checking compatibility, installing, or manipulating physical buttons; our out-of-the box, elegantly controlled CAM software is all you need.
Beautiful craftsmanship
The H Series is available in four color combinations to match your taste, and its elegant all-steel construction is shared across all sizes. The tempered glass panel and signature PSU shroud showcase beautiful builds.
Enjoyable builds for all
Cable management can often take more time than assembly. We designed a new cable routing kit with pre-installed channels and straps, on the back of the motherboard tray, for intuitive and easy wiring. The H Series simple, builder-friendly layout ensures you'll enjoy building your PC as much as you enjoy gaming on it.
Streamlined cooling
We simplified water-cooling installation with drop-in brackets and integrated reservoir mounting for custom-loop systems. Aer F fans* are included for optimal internal airflow. To preserve your system's clean looks, front and PSU intakes are fully filtered.
Modern storage
Storage installation is a snap with quick-release 2.5" SSD trays on the PSU shroud. The H Series cases come with support for additional 2.5" behind the motherboard tray and mounting for traditional 3.5" drives. This storage layout optimizes airflow and interior space for a clean-looking build.
Adaptive Noise Reduction
Our unique Adaptive Noise Reduction uses an on-board noise sensor to measure and learn the specifics of your system to find the ideal balance between fan speed and cooling. With up to a 40% reduction in fan noise level, you won't need to waste time designing custom fan curves. And the adaptive noise reduction algorithm uses machine learning to improve its results, ensuring your fan settings are always optimal, even when you change your system components.
*Case version fans and specs vary from retail version
MSRP Pricing:
H700i 199,90 €
H400i 149,90 €
H200i TBC
Availability:
EU:
GRID+ V3: end of October
H700i: end of October
H400i: mid-November
H200i: end of December
4 color options for all H Series cases:
Matte Black/Black
Matte White/Black
Matte Black/Red
Matte Black/Blue
About NZXT
Founded in 2004, NZXT is a leading PC designer developing an ecosystem of smart products and services, each fueled by a passion for PC gaming. Their award-winning products include computer cases, PC cooling solutions, RGB lighting kits, and their free PC monitoring software CAM. NZXT loves gaming PCs and the people who build them, and are dedicated to improving their products and services to make building extraordinary PCs achievable and fun for everyone.
Specifications
H700i
Dimensions W: 230mm H: 494mm D: 494mm (without feet)
W: 230mm H: 516mm D: 494mm (with feet)
Material(s) SECC Steel and Tempered Glass
Weight 12.27 kg
Motherboard Support Mini-ITX, MicroATX, ATX and EATX(Up to 272mm or 10.7-inches)
I/O Ports 2 x USB 2.0
2 x USB 3.1 Gen 1
1 x Audio/Mic
Filters Front and PSU Intake
Smart Device 3 x Fan channels with Max 10W per channel output*
1 x RGB LED port support up to 4 x HUE+ LED strips or 5 x Aer RGB fans
Built-in noise detection module
*Note: If a splitter is used, fan control is regulated depending on the fan connected to the 4-pin port. Do not use low-noise adapters.
Expansion Slots 7
Drive Bays 2.5": 7
3.5": 2+1
Radiator Support Front: 2 x 140 or 3 x 120mm with Push/Pull
Top: 2 x 140 or 3 x 120
Fan Support Front: 3 x 120/2 x 140mm (3 Aer F120 Case Version included)
Top: 3 x 120/2 x 140mm
Rear: 1 x 120/1 x 140mm (1 Aer F140 Case Version included)
Fan Specs Aer F120 (Case Version)
Speed: 1200 + 200 RPM
Airflow: 50.42 CFM
Noise: 28 dBA
Bearing: Rifle Bearing
Aer F140 (Case Version)
Speed: 1,000 + 200 RPM
Airflow: 68.95 CFM
Noise: 29 dBA
Bearing: Rifle Bearing
Clearance Cable Management: 18-22mm
GPU Clearance: Up to 413mm
CPU Cooler: Up to 185mm
Front Radiator: 60mm
Top Radiator: 30mm
Warranty 2 Years
Color Model EAN UPC
Matte White/Black CA-H700W-WB 5060301693849 815671013538
Matte Black/Red CA-H700W-BR 5060301693856 815671013545
Matte Black/Black CA-H700W-BB 5060301693863 815671013552
Matte Black/Blue CA-H700W-BL 5060301693931 815671013620
H400i
Dimensions W: 210mm H: 393mm D: 421mm (without feet)
W: 210mm H: 417mm D: 421mm (with feet)
Material(s) SECC Steel and Tempered Glass
Weight 7.6 kg
Motherboard Support mini-ITX and microATX
I/O Ports 2 x USB 3.1 Gen 1
1 x Audio/Mic
Filters Front, Top, and PSU Intake
Smart Device 3 x Fan channels with Max 10W per channel output*
1 x RGB LED port support up to 4 x HUE+ LED strips or 5 x Aer RGB fans
Built-in noise detection module
*Note: If a splitter is used, fan control is regulated depending on the fan connected to the 4-pin port. Do not use low-noise adapters.
Expansion Slots 4
Drive Bays 2.5": 3+1
3.5": 1
Radiator Support Front: 2 x 140 or 2 x 120mm with Push/Pull
Rear: 1 x 120
Fan Support Front: 2 x 120/2 x 140mm (2 Aer F120 Case Version included)
Top: 2 x 140mm
Rear: 1 x 120mm (1 Aer F120 Case Version included)
Fan Specs Aer F120 (Case Version)
Speed: 1200 + 200 RPM
Airflow: 50.42 CFM
Noise: 28 dBA
Bearing: Rifle Bearing
Clearance Cable Management: 18-22mm
GPU Clearance: Up to 411mm
CPU Cooler: Up to 164mm
Front Radiator: 60mm
Warranty 2 Years
Color Model EAN UPC
Matte White/Black CA-H400W-WB 5060301693870 815671013569
Matte Black/Red CA-H400W-BR 5060301693887 815671013576
Matte Black/Black CA-H400W-BB 5060301693894 815671013583
Matte Black/Blue CA-H400W-BL 5060301693986 815671013675
H200i
Dimensions W210xH349xD372 mm
Material(s) SECC Steel and Tempered Glass
Weight 6.0kg
Motherboard Support mini-ITX
I/O Ports 2 x USB 3.1 Gen 1
1 x Audio/Mic
Filters Front and PSU Intake
Smart Device 3 x Fan channels with Max 10W per channel output*
1 x RGB LED port support up to 4 x HUE+ LED strips or 5 x Aer RGB fans
Built-in noise detection module
*Note: If a splitter is used, fan control is regulated depending on the fan connected to the 4-pin port. Do not use low-noise adapters.
Expansion Slots 2
Drive Bays 2.5": 3+1
3.5": 1
Radiator Support Front: 2 x 120 with Push/Pull
Top: 1 x 140 or 1 x 120
Fan Support Front: 2 x 120/2 x 140mm
Top: 1 x 120mm (1 Aer F120 Case Version included)
Rear: 1 x 120mm (1 Aer F120 Case Version included)
Fan Specs Aer F120 (Case Version)
Speed: 1200 + 200 RPM
Airflow: 50.42 CFM
Noise: 28 dBA
Bearing: Rifle Bearing
Clearance Cable Management: 16.3mm
GPU Clearance: Up to 325 mm
CPU Cooler: Up to 165mm
Front Radiator: 85mm
Rear Radiator: 42mm
Warranty 2 Years
Color
Matte White/Black CA-H200W-WB 5060301693955 815671013644
Matte Black/Red CA-H200W-BR 5060301693962 815671013651
Matte Black/Black CA-H200W-BB 5060301693948 815671013637
Matte Black/Blue CA-H200W-BL 5060301693979 815671013668