La rinascita passa per il gaming.
Ne avevamo già parlato nei mesi scorsi discutendo della nuova piattaforma Microsoft dedicata agli smartphone più evoluti, Windows Phone 7, ma alla Gamescom di Colonia, apertasi proprio oggi, la compagnia di Redmond ha fornito succulente e più approfondite informazioni sul nuovo servizio Xbox Live dedicato ai cellulari.
Con il nuovo servizio Live, non solo sarà possibile gestire tutte le informazioni della Gamertag compresi i nostri Avatar, gli achievements, gli amici del live ( la lista completa delle funzionalità la trovate in basso nel comunicato) ma sarà anche possibile accedere ad alcuni servizi esclusivi collegati ai nostri videogames preferiti e a tanti nuovi giochi appositamente sviluppati per la piattaforma Windows Phone 7, grazie alle potenzialità di XNA.
I nuovi giochi saranno acquistabili dal marketplace in maniera del tutto simile da quanto avviene con i Live Arcade della sorella maggiore Xbox 360 e al lancio Microsoft ha promesso 60 top selling game, tra cui Castlevania, Halo: Waypoint, Star Wars, Crackdown, Guitar Hero e Ilomilo. Nuovi giochi saranno poi aggiunti ogni settimana ( La lista completa dei 60 titoli disponibili al lancio la trovate nel comunicato stampa in basso).
Il ritorno di Microsoft nell'affollato e competitivo settore dei sistemi operativi mobili, dominato da iPhone e Android di Google, passa quindi anche attraverso il gaming e il brand di Xbox e Xbox Live. Che sia questa la strada giusta per tornare ad essere al top ? Chi vivrà vedrà, noi da gamers incalliti, ci speriamo.
La piattaforma Windows Phone 7 verrà rilasciata ufficialmente a partire dalle vacanze natalizie. Di seguito il comunicato stampa in inglese:
With Xbox LIVE and a Blockbuster Title Lineup, Windows Phone 7 Marks a New Era in Mobile Gaming
First wave of Xbox LIVE titles from award-winning publishers announced for the launch of Windows Phone 7.
COLOGNE, Germany — August 17, 2010 — Today at Gamescom 2010, the world's largest consumer-oriented games showcase, Microsoft Corp. premiered the first wave of Xbox LIVE games launching on Windows Phone 7 this holiday. With even more games and applications to come, Windows Phone 7 is putting the power of Xbox LIVE into the palm of your hand — from Xbox LIVE Avatars to staying connected with friends, Xbox LIVE is now at your fingertips, anytime, anywhere.*
"We believe that no matter where life takes you, the best in gaming and entertainment should follow," said Marc Whitten, corporate vice president of Xbox LIVE at Microsoft. "Windows Phone 7 takes a different approach to handheld gaming, utilizing Xbox LIVE, Microsoft Game Studios, leading game publishers, and innovative indie developers, to create powerful, shared experiences for everyone."
The Games You Want, Played When and Wherever You Want Them
In a sea of games, apps, gadgets and gizmos, the biggest obstacle can be finding the game that's right for you. Only Windows Phone 7 has a Games hub featuring Xbox LIVE, creating a different kind of mobile gaming experience that puts the games you want front and center. Xbox LIVE games on Windows Phone 7 will be specially selected from the top names in mobile, PC and console game development, making the best mobile games even better, thanks to Xbox LIVE. With try-before-you-buy demos, Xbox LIVE leaderboards, turn-based multiplayer, Achievements and more, Windows Phone 7 brings the quality, consistency and community of the Xbox experience to gamers on the go.
Windows Phone 7 also will be supported by content from Microsoft Game Studios (MGS), providing strong first-party gaming titles and intellectual property for the phone. For Xbox fans, this means that Windows Phone 7 will offer companion titles to familiar names, such as "Halo: Waypoint," and "Crackdown 2," extending the experience of their favorite Xbox 360 franchises.
"Windows Phone 7 is the launch of a major gaming platform for Microsoft," said Matt Booty, general manager of mobile gaming for MGS. "Just like we've done with Xbox 360, our charter is to push the envelope and deliver definitive games that maximize the platform. We will have an incredible lineup of MGS titles, and that's just the beginning."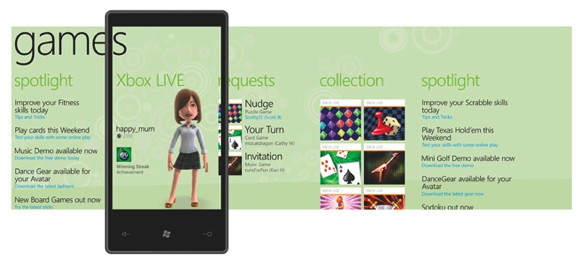 The most creative minds in game development are bringing the biggest franchises to Windows Phone 7. The first wave of launch portfolio titles includes Xbox LIVE games from the likes of Gameloft, Konami, Namco Bandai, PopCap and THQ. Whether you choose to play a gem of a puzzler with "Bejeweled™ LIVE" (PopCap), bring down the house with "Guitar Hero 5" (Glu Mobile), fight off a destructive alien invasion in "The Harvest" (MGS), paint your way out of a corner with "Max and the Magic Marker" (PressPlay) or defend your city in "Crackdown 2: Project Sunburst" (MGS), the first wave of games announced in the launch portfolio of Xbox LIVE games on Windows Phone 7 has something for every mobile gamer:
"3D Brick Breaker Revolution" (Digital Chocolate)

"Age of Zombies" (Halfbrick)

"Armor Valley" (Protégé Games)

"Asphalt 5" (Gameloft)

"Assassins Creed" (Gameloft)

"Bejeweled™ LIVE" (PopCap)

"Bloons TD" (Digital Goldfish)

"Brain Challenge" (Gameloft)

"Bubble Town 2" (i-Play)

"Butterfly" (Press Start Studio)

"CarneyVale Showtime" (MGS)

"Castlevania" (Konami)

"Crackdown 2: Project Sunburst" (MGS)

"De Blob Revolution" (THQ)

"Deal or No Deal 2010" (i-Play)

"Earthworm Jim" (Gameloft)

"Fast & Furious 7" (i-Play)

"Fight Game Rivals" (Rough Cookie)

"Finger Physics" (Mobliss Inc.)

"Flight Control" (Namco Bandai)

"Flowerz" (Carbonated Games)

"Frogger" (Konami)

"Fruit Ninja" (Halfbrick)

"Game Chest-Board" (MGS)

"Game Chest-Card" (MGS)

"Game Chest-Logic" (MGS)

"Game Chest-Solitaire" (MGS)

"GeoDefense" (Critical Thought)

"Ghostscape" (Psionic)

"Glow Artisan" (Powerhead Games)

"Glyder 2" (Glu Mobile)

"Guitar Hero 5" (Glu Mobile)

"Halo Waypoint" (MGS)

"Hexic Rush" (Carbonated Games)

"I Dig It" (InMotion)

"iBlast Moki" (Godzilab)

"ilomilo" (MGS)

"Implode XL" (IUGO)

"Iquarium" (Infinite Dreams)

"Jet Car Stunts" (True Axis)

"Let's Golf 2" (Gameloft)

"Little Wheel" (One click dog)

"Loondon" (Flip N Tale)

"Max and the Magic Marker" (PressPlay)

"Mini Squadron" (Supermono Limited)

"More Brain Exercise" (Namco Bandai)

"O.M.G." (Arkedo)

"Puzzle Quest 2" (Namco Bandai)

"Real Soccer 2" (Gameloft)

"The Revenants" (Chaotic Moon)

"Rise of Glory" (Revo Solutions)

"Rocket Riot" (Codeglue)

"Splinter Cell Conviction" (Gameloft)

"Star Wars: Battle for Hoth" (THQ)

"Star Wars: Cantina" (THQ)

"The Harvest" (MGS)

"The Oregon Trail" (Gameloft)

"Tower Bloxx NY" (Digital Chocolate)

"Twin Blades" (Press Start Studio)

"UNO" (Gameloft)

"Women's Murder Club: Death in Scarlet" (i-Play)

"Zombie Attack!" (IUGO)

"Zombies!!!!" (Babaroga)
Additional titles in the launch portfolio will be released between now and the Windows Phone 7 launch this holiday season; once the phone launches, new Xbox LIVE titles also will be added to the games portfolio every week.
Xbox LIVE: Bringing More to Your Mobile Gaming
Xbox LIVE on Windows Phone 7 unlocks a world of games and fun and directly connects you to a global community of more than 25 million active Xbox LIVE members. Windows Phone 7 is the only phone that seamlessly integrates Xbox LIVE and provides unique mobile gaming experiences:
Avatars.

Connect to your Xbox LIVE profile and Avatar, or create a new one if you don't already have an Avatar or Xbox LIVE profile; take your 3-D Avatar and props with you on the phone with full closet access.

Friends.

Bring your Xbox LIVE friends with you everywhere; compare Achievements, challenge rivals to your favorite game, and even see who's online and what they're doing on their consoles, PCs or phones.

Game access.

Easily view and launch your full game library from a single location; find, try and buy new games either in the Marketplace or Games hub.

Achievements.

Earn, view and track Achievements, view Xbox LIVE leaderboards and build your Gamerscore across Xbox 360 and Windows Phone 7 — every time you play an Xbox LIVE title.

Messaging.

Communicate with all of your Xbox LIVE friends, any time you want, through Xbox LIVE messages.

Multiplayer.

Invite, connect and play against friends on other Windows Phone 7 phones or the PC with turn-based (asynchronous) multiplayer gaming.

Spotlight.

Access Xbox LIVE Spotlight feeds, including the latest game titles, breaking news from Xbox LIVE, game tips and tricks, and more.