Addio ai colori tradizionali, spazio ai colori bianco, nero, rosso giallo blu e verde
Noctua, uno dei principali players nel settore della dissipazione ad aria, abbandona, il classico colore marrone che ha reso immediatamente riconoscibili tutti i suoi prodotti, per rivolgersi anche al pubblico di gamers e appassionati che tengono in buon conto l'estetica della propria macchina. La compagnia austriaca introduce oggi la versione chromax delle sue ventole più famose in formato 120mm e 140mm, ovvero le NF-A15, NF-A14, NF-F12 e NF-S12A oltre a cover per i suoi celeberrimi e pluripremiati dissipatori della serie NH-U12s e NH-D15. Le ventole hanno un corpo lamellare nero con angoli intercambiabili nelle colorazioni bianco, nero, rosso giallo blu e verde. A completare il tutto, sono in arrivo anche le cover per i dissipatori Noctua NH-U12S e NH-D15(S), denominati NA-HC1, HC2, HC3 e HC4, che saranno disponibili bianchi, neri e in edizione speciale Swap, ovvero neri con inserti multicolore intercambiabili.
La nuova serie sarà accompagnata anche da una serie di accessori nelle medesime colorazioni come i cavi sleeve.  I prezzi della serie Chromax sono in linea con quelli dei prodotti originali: 
Ventole
NF-A15 HS-PWM Chromax – EUR 26.90;
NF-A14 PWM Chromax – EUR 24.90;
NF-F12 PWM Chromax – EUR 22.90;
NF-S12A PWM Chromax – EUR 22.90
Cover per dissipatori
NA-HC1 Chromax swap – EUR 19.90;
NA-HC2 chromax black – EUR 19.90;
NA-HC2 chromax white – EUR 19.90;
NA-HC3 chromax swap – EUR 29.90;
NA-HC4 chromax black – EUR 29.90;
NA-HC4 chromax white – EUR 29.90;
Cavi colorati e prolunghe
NA-SEC1 e NA-SYC1 – EUR 9.90 cad.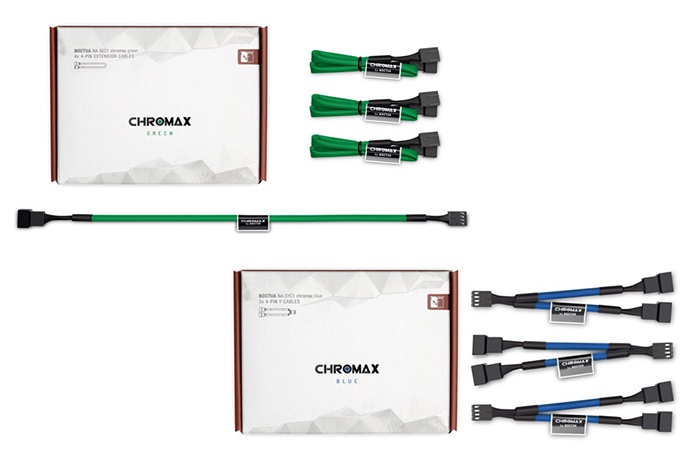 Per maggiori informazioni vi rimandiamo al comunicato in inglese di seguito
Vienna, October 16th 2017 – Noctua today introduced the long-awaited chromax editions of its most renowned 120mm and 140mm fan models as well as chromax line cables and heatsink covers for its award-winning NH-U12S and NH-D15 series CPU coolers. All the new chromax line products allow users to colour-customise their Noctua cooling systems in order to match popular build colour schemes.
"Noctua is an engineering-driven company: we pride ourselves on relentlessly tuning our products for maximum performance and quality rather than putting form before function, but of course we understand that many customers put an emphasis on build aesthetics these days," explains Roland Mossig (Noctua CEO). "With the new chromax line fans, cables and heatsink covers, we now offer a range of products that's ideal for those who care about looks just as much as about quality and performance."
Having received more than 100 awards and recommendations from international hardware websites and magazines, the NF-A15, NF-A14, NF-F12 and NF-S12A are among Noctua's most renowned 140mm and 120mm fans. The new chromax.black.swap edition combines their signature quiet cooling performance with an attractive all-black design and a bundle of swappable red, white, blue, green, yellow and black anti-vibration pads that allow the colour-customisation of the fans to match individual build colour schemes. Topped off with Noctua's trusted premium-grade SSO2 bearing, more than 150,000 hours MTTF and a 6-year manufacturer's warranty, the new chromax.black.swap fans are the perfect choice for all users who value individual, focused build aesthetics just as much as class-leading quality and performance.
Noctua's new chromax line NA-SEC1 extension cable and NA-SYC1 y-cable sets enable users to take one step further in colour-customising their fans: available with red, blue, green, yellow, black and white sleeving, the cables allow a PC build to be colour-coordinated down to the smallest detail and are an ideal match for the new chromax.black.swap edition fans. While the NA-EC1 30cm extension cables provide extra reach in larger enclosures, the NA-YC1 y-cables make it possible to run two 4-pin PWM fans on a single fan header and to let the motherboard control the speed of both fans simultaneously.
The new NA-HC heatsink covers are add-on accessories for Noctua's award-winning NH-U12S and NH-D15(S) series CPU coolers. Made from high-quality, powder-coated aluminium and available in black (chromax.black), white (chromax.white) and black with swappable inlays in black, white, red, blue, green and yellow (chromax.black.swap), they allow users to colour-customise their coolers in order to coordinate them with popular build colour schemes such as all-black, black and white or black and red. Thanks to the easy, straightforward installation, changing the looks of a Noctua cooler only takes a few minutes and doesn't even require taking it off the CPU. Combined with the new chromax.black.swap edition fans, the NA-HC covers give users endless possibilities to design their very own, individual Noctua coolers that look just as great as they cool!
Prices and availability
All products are currently shipping and will be available shortly. The manufacturer's suggested retail prices are as follows:
NF-A15 HS-PWM chromax.black.swap: EUR 26.90/USD 26.90
NF-A14 PWM chromax.black.swap: EUR 24.90/USD 24.90
NF-F12 PWM chromax.black.swap: EUR 22.90/USD 22.90
NF-S12A PWM chromax.black.swap: EUR 22.90/USD 22.90
NA-HC1 chromax.black.swap: EUR 19.90/USD 19.90
NA-HC2 chromax.black: EUR 19.90/USD 19.90
NA-HC2 chromax.white: EUR 19.90/USD 19.90
NA-HC3 chromax.black.swap: EUR 29.90/USD 29.90
NA-HC4 chromax.black: EUR 29.90/USD 29.90
NA-HC4 chromax.white: EUR 29.90/USD 29.90
NA-SEC1 chromax.black: EUR 9.90/USD 9.90
NA-SEC1 chromax.blue: EUR 9.90/USD 9.90
NA-SEC1 chromax.green: EUR 9.90/USD 9.90
NA-SEC1 chromax.red: EUR 9.90/USD 9.90
NA-SEC1 chromax.white: EUR 9.90/USD 9.90
NA-SEC1 chromax.yellow: EUR 9.90/USD 9.90
NA-SYC1 chromax.black: EUR 9.90/USD 9.90
NA-SYC1 chromax.blue: EUR 9.90/USD 9.90
NA-SYC1 chromax.green: EUR 9.90/USD 9.90
NA-SYC1 chromax.red: EUR 9.90/USD 9.90
NA-SYC1 chromax.white: EUR 9.90/USD 9.90
NA-SYC1 chromax.yellow: EUR 9.90/USD 9.90