Una nuova alleanza
Scythe, la casa giapponese produttrice di alcuni dei più interessanti dissipatori ad aria presenti sul mercato, ha presentato nella giornata di oggi una versione speciale del suo pluripremiato Scythe Mugen 5, di cui trovate la nostra recensione a questo indirizzo.
Lo Scythe Mugen 5 TUF Gaming Alliance Edition fa parte della collaborazione della casa giapponese con Asus e la sua serie TUF Gaming Alliance, ed offre le caratteristiche e le performance del Mugen 5 nella classica colorazione giallo oro della serie TUF. Inoltre, ed è questa una novità assoluta per Scythe, il sistema sarà dotato di illuminazione RGB sincronizzabile con i dispositivi AURA e più in generale con tutte le motherboard con controller RGB integrato. In particolare ad essere illuminata sarà la parte superiore del dissipatore. Come anche la sua versione standard, il dissipatore Scythe Mugen 5 TUF Gaming Alliance Edition sarà accompagnato da una ventola PWM di alta qualità Kaze Flex da 120mm con velocità tra i 300 e i 1.200 RPM, estremamente silenziosa e performante.
Per maggiori dettagli vi rimandiamo al comunicato in calce al sito dedicato: Scythe Mugen 5 TUF Gaming Alliance Edition
Scythe Mugen 5 TUF Gaming Alliance Edition with RGB Enhancement
20.06.2019, Oststeinbek (Germany) – Japanese cooling expert Scythe announces a special edition of the Mugen 5 CPU Cooler as part of the ASUS™ TUF Gaming Alliance series. Outstanding performance with overclocking potential, high cooling efficiency and an exceptionally sophisticated heatsink design are just three of the many advantages the Scythe Mugen series has to offer. Mugen 5 TUF Gaming Alliance incorporates all the features of the acclaimed series and combines them with the unique TUF Gaming Alliance design along with exclusive RGB illumination. For an even more convenient installation, Scythe has implemented the third revision of its Hyper Precision Mounting System for Mugen 5 TUF Gaming Alliance.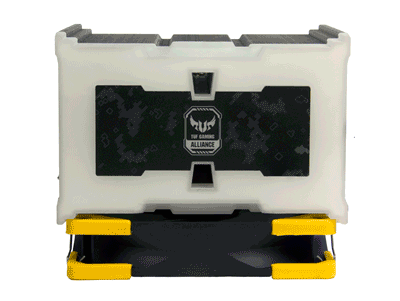 Extraordinary Design with RGB Illumination
The new Mugen 5 TUF Gaming Alliance CPU Cooler features a carefully designed top-cover, which incorporates the unique patterns as well as logo of the TUF Gaming Alliance series from ASUS™. The large and translucent surface area in the top-plate is fitted with RGB LEDs. This illumination is further enhanced thanks to the new Kaze Flex 120 RGB fan, offering rich colors and versatile effects. Kaze Flex 120 utilizes eight RGB LEDs inside the ring around the fan motor for consistent and bright illumination. Users are able to take full control of the RGB settings by connecting the fan directly to a RGB-enabled motherboard. This way it is possible to synchronize the colors and effects using the Asus™ Aura or other compatible RGB systems.
Bundled with Kaze Flex 120 RGB Fan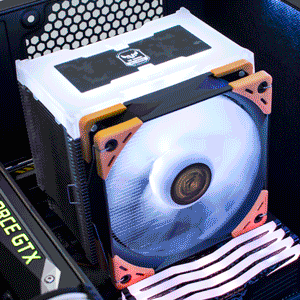 The Kaze Flex 120 RGB fan inherits all the great features and metrics of the series. Thanks to its well-balanced fan speed range from 300 to 1.200 RPM and the PWM support, users are able to adjust the fan speed according to their needs dynamically, using the PWM controller of their motherboard. Kaze Flex 120 RGB is equipped with a high-quality, self-contained liquid bearing (Sealed Precision FDB), which reduces friction and wear to a minimum and offers an average lifespan of 120.000 hours. Yellow rubber pads are integrated into the corners of the fan-frame, in order to prevent any transfer of vibrations.
Easy Installation and Multi Socket Support
Mugen 5 TUF Gaming Alliance supports all major CPU sockets and assures an even easier installation procedure, which has been achieved thanks to the recently developed third revision of Hyper Precision Mounting System (H.P.M.S. III). It is based on a back-plate mounting system with spring-loaded screws for balanced contact pressure. The third revision comes with updated rubber and plastic spacers, which are holding the backplate secured to the motherboard during the installation process. The compatibility list includes the Intel™ sockets LGA775, LGA115x, LGA1366, LGA 2011(v3) and LGA 2066 as well as AMD sockets AM2(+), AM3(+), FM1, FM2(+) and AM4.
Scythe Mugen 5 TUF Gaming Alliance CPU Cooler (Model-No. SCMG-5100TUF) is available for 49,95€ (VAT/Taxes not included).